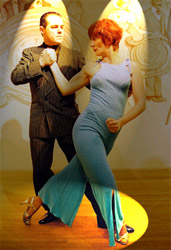 Sergio Natario and Alejandra Arrue are qualified professional tango teachers and dancers. They have been known for their Milonguero style for over a decade now. They are a husband and wife team, and in their dancing you can clearly see the harmony between the two.
Sergio and Alejandra have studied under masters such as Antonio Tobaro and Pepito Avellaneda and they have also been influence by teachers such as Alejandra Aquino, Mingo Pugliese and others.

Like many great teachers, they have gone around the world passing on their experience to tango lovers. Their methodology is based on corporal and auditory work.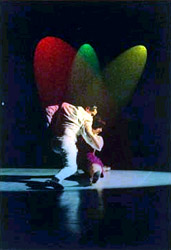 They have a program of different exercises which they have prepared through their own experiences over the last decade. Their principle is that of elegance and rhythm, without impeding the freedom of each pupil to develop his/her own way of feeling tango. In the last decade, they have been involved in several TV Programmes including Great Values of Tango, Michelangelo, Neighbors (TV Program of Australia). They were also involved in the International Festival Buenos Aires Tango; they appeared in several movies in Montpellier (France) 2004, Senigallia (Italia) 2004