CORINA DE LA ROSA DANCER, CHOREOGRAPHER AND ARGENTINE TANGO TEACHER.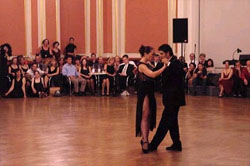 She has been teaching dance since she was 17 years old. She studied theater for 5 years with the very well know directors Agustín Alezzo and Augusto Fernández. She graduated as scenographer at the Art School of the Salvador University. She has applied all this knowledge in tango by developing a technique where the tango essence and nature and its structural analysis of the movement are joined together according to her training and research. She is one of a few dancers whose classes consist of making, creating and learning movements based on equality for the roles of the woman and the man. She shares this development and evolution of the Tango-dance.
JULIO BALMACEDA CHOREOGRAPHER AND ARGENTINE TANGO TEACHER.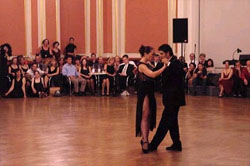 She has been teaching dance since she was 17 years old. She studied theater for 5 years with the very well know directors Agustín Alezzo and Augusto Fernández. She graduated as scenographer at the Art School of the Salvador University. She has applied all this knowledge in tango by developing a technique where the tango essence and nature and its structural analysis of the movement are joined together according to her training and research. She is one of a few dancers whose classes consist of making, creating and learning movements based on equality for the roles of the woman and the man. She shares this development and evolution of the Tango-dance.

JULIO & CORINA have been working together since 1996. They have created a unique style by leading new tango trends and adding the traditional elegance of the "tango salón". They combine fluency, subtlety, energy and dynamics, together with a unique interpretation of the music. As experts in "tango vals" and "tango salón", they have performed in countless scenarios worldwide. Nowadays, they are the soloist couple of the Color Tango Orchestra . In 1998, they took part of the successful Broadway production Forever Tango. Its cast was nominated for the "Tony Award" for "The Best Choreography". In 1999, they were invited to dance at Carnegie Hall in New York, together with the virtuosos Gary Burton , Pablo Ziegler and Paquito D´ Rivera , to pay tribute to the master Astor Piazzolla . They have been invited to participate as "masters" in the most prestigious Tango festivals in Europe, the USA and Japan. They have their own Tango school in Argentina, and they participate in all the events related to Tango promotion and broadcasting in their country.


Book this great teacher